RABÔT FEMALE PORTRAIT SERIES. MEET TOMMI AND CAROL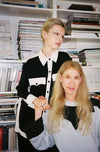 We're celebrating female creatives based in Los Angeles who are inspiring to us at RABÔT.
Meet Tommi Aura
 

and

 Carol Shaw

, photographed on film by Bella Gadsby.

 

Look 1: Tommi is wearing the Valentine Shirt and Beaux Pant and Carol is wearing the Valentine Sweatshirt and Valentine Sweatpant.

 

 
Tommi Aura is a singer, songwriter and artist currently based in Los Angeles, CA. Tommi also has a successful career in the fashion industry, having been in magazines such as Vogue, Elle, V Magazine and worked with clients including Ulta Beauty, WetnWild and Haus Labs by Lady Gaga. 
Carol Shaw is a celebrity makeup artist and founder of LORAC Cosmetics.  

Q: How has living in Los Angeles fostered your career? 

Tommi - "Being in Los Angeles, I've really been able to grow as an artist. I've created a team of collaborators here that I feel I can really be myself the most with as an artist. Performing is my favorite thing to do in music and LA has helped me become a stronger performer over time. I'm grateful for the pause and more relaxed way of life on the west coast because being from the east coast, it's not in my nature!"

Carol - "Los Angeles is home to the most famous actors in the world along with award shows, premieres, photo shoots and parties! As an LA based makeup artist, Hollywood kept me booked solid doing celebrities makeup for photo shoots and red carpet events."



Q: What inspires you about each other?
Tommi - "Not only is Carol a legend in the industry, she's also someone I look up to as an artist and businesswoman. She's a go getter and has worked hard to get to where she is in life and that really inspires me to continue going towards my dreams. She shows me it's possible and it's possible to do it in a graceful and beautiful way. Two words I'd use to describe her."

Carol - "I was drawn to Tommi the first time I met her! I was intrigued by her beauty, talent, creativity and kind nature. Tommi brings vitality, fun, joy, creativity, music and lots love into my life!"