RABÔT FEMALE PORTRAIT SERIES. MEET HEATHER AND EMILY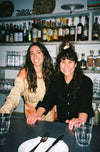 We're celebrating female creatives based in Los Angeles who are inspiring to us at RABÔT.
Heather is wearing the Silas Romper and the Paz Coat Emily is wearing the Miller Shirt Dress and Valentine Pant.
Heather Sperling is the co-owner of Botanica, a restaurant and market in Silver Lake, Los Angeles. She opened Botanica in 2017, with Emily Fiffer, as a destination for nourishing hospitality — a culinary and business philosophy that permeates every aspect of Botanica's existence, from its obsessively farmers market-centric menu and sustainable practices to its dedication to respect, equality and healthfulness as core operating tenets.

Botanica has garnered numerous accolades and international recognition for its vibrant, wholesome cooking and ambitious natural wine program. In addition to its brick-and-mortar space, Botanica has a digital recipes publication and a thriving online retail program with Botanica packaged goods and curated gift boxes.

Prior to opening Botanica, Heather spent a decade as a restaurant-focused editor for culinary publications — and on the side, served as a writer for dozens of others and a consultant for chefs, markets and culinary brands. Her love for vegetable-centric cookery is lifelong, informed by her Lebanese heritage and a stint living in India as a child, and by a multi-generational family tradition of edible gardening. She is a founding member of Regarding Her, a non-profit fueling the growth of women leaders in food and beverage.

When she's not at Botanica, she's at home cooking for/with her two children, gardening, throwing dinner parties and collecting far too many ceramics.
Emily Fiffer co-owns and operates Botanica Restaurant in Los Angeles. Before diving into the restaurant world, Emily was a lifestyle and food editor for over a decade, spending 8 years at DailyCandy and several more freelancing for publications such as The New York Times, Bon Appetit and Food & Wine. Working in the kitchens at London's Nopi and Moro solidified her love of cooking and nourishing people around the table. A lifetime pescatarian, she relishes in bringing healthful, feel-good food to anyone who will eat it. In her spare time she enjoys insanely long walks, reading and writing about books for her newsletter, Read, Eat, Repeat, and hosting friends for hourslong meals.   

Q: How has living in Los Angeles fostered your career? 

Heather - "At the heart of it, I love Los Angeles because it has fostered a bountiful, beautiful, creative, vibrant, community-rich life -- and that has enabled a rewarding career. Emily and I moved to Los Angeles in 2015 specifically to build Botanica; neither of us had ever lived here before, nor do we have any family here. We were very thoughtful and intentional in relocating our lives to LA, and I think I can speak for both of us when I say that we feel daily gratitude for that choice! We recognized that there was really room for a business like Botanica in LA -- and we knew that we'd feel like the luckiest cooks in the world to be able to work with Southern California's produce and products. I also suspected that the rich natural landscape of LA would nurture our spirits and our perspectives in ways that our previous cities (me - New York, Emily - Chicago) hadn't. I am truly enchanted by the bounty of this city and this region. The culture, the landscape, the creative expression... It's a hugely inspiring setting for this creative, entrepreneurial adventure we've been on for the past eight years."

Emily - "Botanica – and my second career as a restaurant owner – quite literally came to life in Los Angeles. After living in the Midwest until my late 20s, I needed a serious change; this itch coincided with our plan to open a restaurant. After visiting the Silverlake farmers market in the middle of February it was abundantly clear: We needed to be here! The concept for our restaurant was all about nourishment via wholesome, vegetable-laden foods, and there's truly no better place for that in the country than LA. Moving here in 2015 changed everything for me and for our nascent business. LA is one of the most open, creatively inspiring cities I've ever lived in. We're lucky enough to have a community of like-minded (mostly female) restaurateurs to lean on and commiserate with. That community, plus the incredible support of our Silverlake neighbors (both residents and fellow business owners), has made Botanica part of the fabric of the neighborhood. There's an awesome openness here, whether it comes to sharing intel or handypeople, or collaborating on projects. People want to create, they want to bring people together, and they want to share their art. I think LA is so special in that there's very little sense of competitiveness, information hoarding or bullying going on. It's a big city and there's a lot of room for artists of all types to do their thing. There's truly no other place besides LA where we could've created the community we've created, let alone survived COVID! For that I am very grateful. I'll also mention that LA is such a fundamentally lovely place to live. There isn't a lot of friction here (unless you're commuting multiple hours a day, obviously); the weather is gorgeous for long walks and hikes, there are multiple healers available if you want to focus on self-care, and the vibes are good. People are happy here. We knew that if we were going to take on a project as insane as a restaurant that our lifestyle outside of the business needed to be balanced and spacious; LA provides that in spades."



Q: What inspires you about each other?
Heather - "Emily is endlessly curious about the world and about people! She's such a connector and a listener and a learner. She's grounded and present. She really cares about people in a way that is extremely genuine. She's an active explorer; she's an exceptional resource for hikes -- and for excellent people doing inspiring things. And she is fanatically passionate about produce and cooking in a way that is always inspiring... If my creativity is lagging, a conversation with her about recipes/techniques/ingredients will always refuel it."

Emily - "From the first moment I met Heather 15 years ago (!!!) I was basically awestruck. How could someone be so composed, well-spoken, elegant, know everything about everything....and be 26?! Over the years I've continued to be inspired by Heather on many levels. Firstly, she has an innate sense of diplomacy. She's able to enter into and endure a lot of discomfort and remain not only calm, but eloquent and fair. She doesn't gossip or speak ill of others behind their backs — something that is an extremely easy trap to fall into, especially in this day and age. She works harder than almost anyone I know and is utterly devoted to the practice of being a business owner. She always wants to do better, be better, fine-tune and tweak. Plus, she's an incredibly doting mother to two of the cutest kids you've ever seen. There's literally no wasted time in her world; every moment is dedicated to improvement or caretaking. She has an uncanny ability to see the future — as in, she has a very detailed idea of exactly what she wants her life and work to look like, say, 10 years into the future. She's incredibly pragmatic yet extremely open to alternative experiences (ask her about the time we went to see the same medium who told us we were related in a former life!). Amid all of the seriousness, strength and work ethic, there's a silly side that kills me every time I get a peek. Heather has the capacity to laugh at herself and has a great sense of humor. We laugh as much as we scheme at Botanica. I could go on! She's one of a kind and truly amazing, and I love watching her work and live a life of beauty."