RABÔT FEMALE PORTRAIT SERIES. MEET CHARLOTTE AND LAUREN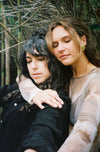 We're celebrating female creatives based in Los Angeles who are inspiring to us at RABÔT.
Look 1: Charlotte is wearing the Sur Top and 
Silas Cargo Pant
 and Lauren is wearing the Miller Shirt Dress.
Look 2: Charlotte is wearing the Paradisi Dress and Lauren is wearing the
Mitra Top
and Dolores Pant.
Charlotte Hourston has been living in Los Angeles for six years and finally feels at home. She is in her twenties and spends her days on set as a model, at the beach surfing, at her home with best friend Lauren Zbarsky capturing photos, and working out of her garage turned home-office where she runs her small business Charlie Beads. She started Charlie Beads in the pandemic to stay connected with friends all over the world by sending them a necklace with a hidden message. The project has continued to evolve over the last three years and has expanded from necklaces into a full line of jewelry & clothing as well as a small curated vintage collection. The collection is inspired by her love for clothing and nature and her attention to detail is clear across all her pieces. Peek inside Charlie's world at @charliebhourston and @charlie.beads, where she shares her visual inspiration and moods.
Lauren D Zbarsky is a portrait and fashion photographer who is happiest in the sun. She is endlessly inspired by the collaborative and intimate relationship that exists between the subject and the photographer. She is most enamoured by the many characters she meets above anything else. Lauren has worked in the fashion industry for over a decade and has had the opportunity to travel throughout the US and Canada shooting for global brands but has an affinity for working with smaller, independent companies run by women. Her main goal on any set is to keep it chill and make sure everyone is laughing. She loves to host and feed people at her home and always makes enough food for at least triple the amount of guests at any dinner party.

Q: How has living in Los Angeles fostered your career? 

Charlotte - "Living in Los Angeles has been quintessential for my career, and working with Lauren in Vancouver was a beautiful part of what pushed me back here. I was on the fence about if I had what it takes to model in Los Angeles and being behind her lense showed me what I was capable of. Having both a brand and modeling career is a challenge to manage time wise, but with access to the endless resources Los Angeles has to offer it is somehow all made possible. I don't think I'd be able to do all of this if I lived anywhere else."

Lauren - "As a Canadian residing in Vancouver, BC for most of my life, LA has opened up new opportunities for me. The industry in Los Angeles is so diverse. Since working here I've become very interested in small brands that have eccentric and quirky vibes. It's exciting to constantly meet and get to know new people on set. It's very inspiring from that perspective. There's also the unique environment of palm trees, TV billboards on every street and the ever-eclectic styles and personalities that make up LA. These experiential differences have definitely influenced a shift in the kind of work I'm producing now."



Q: What inspires you about each other?
Charlotte - "What inspires me about Lauren, so many things. We have a ten year age gap between the two of us but it doesn't feel like it most of the time. Without trying she inspires me every day. She is a reminder that I have a very long life ahead of me and not to get caught up in the small things. She allows me to voice any thought or feeling completely unfiltered and provides incredible guidance and insight when I need it. Her whimsical energy when behind the camera opens my heart and mind to be more expansive when we create together. She trusts my visions, which also inspires me to trust myself. She is a true collaborator."

Lauren - "Charlotte's energy is like none other. She is always the person with the most presence, who is the most down to do anything with 120% ooomph! Of course, this translates into making pictures together. Charlotte and I started shooting together in 2019 when we worked in the same studio in Vancouver, Canada and have been adventuring and creating alongside each other ever since. She and I are very aligned in how we want to create images and we usually know what the other person is going for without having to explain ourselves. Outside of taking photos, I'm inspired by her drive to express a unique vision through her brand - Charlie Beads, which I've watched evolve so beautifully over the past 4 years. In many ways, I feel like we're siblings, especially now living and creating together in our Beachwood Canyon home. I couldn't be a prouder big sis."