RABÔT FEMALE PORTRAIT SERIES. MEET SYLVIE AND PORSCHE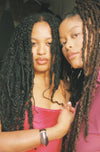 We're celebrating female creatives based in Los Angeles who are inspiring to us at RABÔT.
Look 1: Sylvie is wearing our Paloma Dress and Rabôt Silk Scarf and Porsche is wearing our Mimi Cardi.

Look 2: Sylvie is wearing our Silas Corset and Paradisi Skirt and Porsche is wearing our Mesh Paloma Dress.


Sylvie is a multi-hyphenate creative and model from NY who is currently based in LA. With her family living in Haiti, her favorite way to connect with her roots is through cooking and painting. 

Porsche Little is a Los Angeles based Diviner that specializes in Tarot. Through ancestral veneration, she was able to make a name for herself at the start of the pandemic by offering spiritual assistance. 


Q: How has living in Los Angeles fostered your career? 


Sylvie - "I moved to LA from NY in the early part of the pandemic. I had been modeling for a year already and wanted to make the move before I could get boxed In. It was important to me to be able to be bicoastal and work in both markets.

Living in LA has introduced me to an incredible community of people who have helped to elevate me and have brought me opportunities to work all around the world and has also provided a homebase that brings a perfect balance to my lifestyle with the ability to work in a city where I can still find nature and relaxation driving for 20 minutes in any direction."

Porsche - "Los Angeles has given me that balance that I've needed. NYC was really good for my spirit but being from the east coast, I feel like I've always navigated like I was on the run. In La, I've found myself moving at a healthy pace and within that slowness I have been able to focus on my gifts and share them with other like-minded individuals."

Q: What inspires you about each other?
Sylvie - "Porsche is one of the most genuine and sweetest people I've ever met. I moved here shortly after she did. She inspired me to take a chance and move away from my home state for the first time in my life and welcomed me into her community of friends with open arms.

Porsche always inspires me to act in my highest self and to always demand the best from everything. I think the fact that we have so many similar astrological placements, we often act as a mirror for each other. Talking to her is like talking to myself."

Porsche - "I'm inspired by Sylvie's essence and her ability to unapologetically be herself. Sylvie is someone that walks into a room and can literally lift the energy just by smiling at someone. There's something about her that's very warm and I always find myself feeling the safest around her and the least judged."