RABÔT FEMALE PORTRAIT SERIES. MEET RACHEL AND ANISE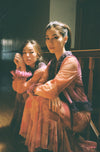 We're celebrating female creatives based in Los Angeles who are inspiring to us at RABÔT.
Look 1: Rachel is wearing our Mimi Cardi and Mesh Paloma Dress and Anise is wearing our Mimi Dress.

Look 2: Rachel is wearing our Paloma Dress and Anise is wearing our Ramblas Dress.


Rachel Ly is a poet, actress, and model who has made Los Angeles her home. She is of Vietnamese and Israeli-Moroccan descent. Her alter ego is a librarian, and she likes to stand out in the subtlest ways possible. She grew up the middle child in a small town in Northern Minnesota before moving to Florida for college, where she studied literature. She stayed a brief stint in New York post-graduation, before settling in L.A.
Anise Mariko Lew is a Japanese-Cantonese American Creative Director and Photographer. She has lived between the US & Asia and creates visual identity through art. She began as a Music Video Director in New York, but discovered her love for the medium of Film Photography in Tokyo & Hong Kong. She continues to find the beauty of people, their human relationships, & fleetingness of memory the most profound thing to convey in her work, and couldn't be happier to be on this path.

Q: How has living in Los Angeles fostered your career? 


Rachel - "When people ask if I like living in Los Angeles, I have to say it has been good to me. I always had a feeling about this place. One of the reasons they call it la la land is because it's so easy to dream about. I was working 3 jobs my first few months out here, and I distinctly remember thinking that moving here mid-pandemic with little to fall back on was putting all my bets on myself. LA teaches me risk and relaxation. I earnestly feel that this city is full of blessings (as well as traps); the more you work on yourself deep in the core, the more doors you will see open. It's like a magic trick."

Anise - "I actually grew up in Los Angeles and really wanted to "Get Out" for most of my adolescence. I moved everywhere- Pretty much the furthest you could go- And ended up back in LA during the Pandemic to stay with family. But it was only here that I truly grew as an artist. I found the best group of friends and a supportive community. I didn't really have that in any other place except maybe New York, but New York... Is a very hard place for flowers to bloom."

Q: What inspires you about each other?
Rachel - "Anise inspires me with her grace. There's a certain charm of weird girl I think we would have both been in high school. She's a fellow daydreamer with grounded souls on her feet. As I've grown to know Anise, I can spot a strength in her that's both gentle and unbendable. She's also the queen of hosting and dresses like a ballerina with a knife up her skirt."

Anise - "Rachel has an effortlessness about her, but always makes you laugh by being pretty transparent on the reality; She's extremely reflective. Rachel is very honest and I love that she puts herself into her writing. She is talented & well-read: I feel like an intellectual being around her! Rachel is an incredible friend, and I value her so much- She is like a sister to me."