RABÔT FEMALE PORTRAIT SERIES. MEET JASMINE AND TATYANA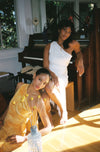 We're celebrating female creatives based in Los Angeles who are inspiring to us at RABÔT.
Look 1: Jasmine and Tatyana are wearing our Paradisi Dress.

Look 2: Jasmine is wearing our Sunne Dress and Tatyana is wearing our Paloma Dress and Silk Scarf.


Jasmine Rutledge is a model and photographer originally from Orlando, Florida. She started her modeling career at the young age of 16 and quickly began traveling the world for various modeling gigs, working with top brands, magazines and photographers.

After a decade of modeling, Jasmine decided to pursue her passion for photography while living in Los Angeles. She's currently a student at ArtCenter College of Design, focusing on building her career behind the camera. With her experience as a model, she has a unique perspective when it comes to capturing the perfect moment. 

Jasmine is a true artist at heart and is constantly pushing herself to take her photography to new heights. She is always experimenting with new techniques and styles, and her work continues to evolve and impress. Her goal is to use her photography to tell stories and capture the beauty of the world around us. 

Tatyana Cooper was born in Jacksonville Florida and moved to NYC after high school to pursue a modeling career. Throughout her decade in the big apple she learned a lot about herself and her passions for art. Outside of modeling she discovered a love of music and began Djing under the moniker, Afrodite. She also reconnected with her first love: Photography. After buying her first real camera because she lost a bet a with an ex-boyfriend, she's been exploring the world behind the lens ever since. Recently she moved to LA to dive deeper into her multi-hyphenated creative lifestyle and of course for the sunny winters.

Q: How has living in Los Angeles fostered your career? 


Jasmine - "Los Angeles has played a huge role in my career. I moved here from NYC about 5 years ago (so crazy it's been that long!!) thinking I'd stick with modeling and move back to NY, but I'm so grateful that didn't happen as I'm pursuing another career path that I really enjoy and can use my voice how I want. I feel grateful for LA."

Tatyana - "Living in LA has fostered my career in so many ways in such a short time. Ive only been here for a year now but it's been a great opportunity to reinvent myself and how the world sees me. Allowing my art to speak for me has been a big shift. After modeling for so long you tend to lose your voice and become nothing more than a pretty face. But LA has given me a chance to relax and expand and think about what I really want out of life. I love creating whether it's a photoshoot, a DJ set, a music video for a friend, anything! Any way I can express myself I'm down. LA is full of artists that just want to create for the sake of creation and theres a lot less pressure to be in a rat race here, there's more freedom."

Q: What inspires you about each other?
Jasmine - "Taty is so fun and her energy is felt by everyone. Whenever I'm shooting on set she's the one hyping up the energy and keeping everything light and I can't thank her enough for being her. LOVE YOU!"

Tatyana - "Ever since I meant Jasmine I've always loved how she existed in her own world. She always has a carefree vibe and follows her own path that she's carves out as she goes. Which is very inspiring! Her drive to constantly be creating something is also inspiring; she's very self motivated despite her laidback exterior. She pushes herself and those around her to exit the comfort zone and believe in themselves. You have no choice but to follow your dreams if you're her friend. I love that she's not afraid to fail so she's always trying something new, which is something I think we both do. We're not afraid to take risks even if we look silly or a little chaotic. She lives her life authentically which makes her photography and art especially unique. Im very proud of her and excited to see where her journey goes from here."