RABÔT FEMALE PORTRAIT SERIES. MEET STELLA AND COLETTE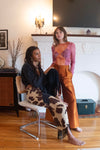 We're celebrating female creatives based in Los Angeles who are inspiring to us at RABÔT.
Look 1: Stella is wearing our Sur Top in Tie Dye Mix and Colby Pant. Colette is wearing our Paradisi Top in Black and Dolores Pant in Cow Mix.

Look 2: Stella is wearing our Paloma Dress in Sanguine. Colette is wearing our Sur Dress in Tie Dye Mix.
Stella is a multi-talented creative based in Los Angeles with a passion for bringing dreamy and nostalgic aesthetics to life. She honed her storytelling skills while studying Narrative Studies at the University of Southern California, where she focused on writing, directing, and video production.
In addition to her work in film and media, Stella is also the founder of Lightbound, a sustainable fragrance company inspired by her love of perfume. Through Lightbound, she seeks to create scents that evoke memories and emotions, while also prioritizing eco-conscious and ethical production practices. Stella's diverse background and creative vision have led her to begin collaborating with a range of clients and partners across industries. 


Colette Lathan is a creative working in television development. Outside of that, she uses photography, art, curation, and writing to highlight beauty and interconnectedness in the mundane.


Q: How has living in Los Angeles fostered your career? 


Stella - "Growing up in LA and being surrounded by creative people in every possible field is something I'm so grateful for. As someone who is interested in so many different facets of the creative world, it took me a while to figure out exactly what path I wanted to go down. But LA is the perfect place to explore multiple interests because of how much you can be exposed to, the people you can connect with, and the art and culture that exists in the city."

Colette - "Growing up in LA means you are surrounded by creative energy. It's the undercurrent everywhere you go whether you realize it or not. This is inspiring for some, overwhelming for others. I've experienced it as both - and have gone through years of holding myself back for fear of not shaping up. But once that feeling subsided - or more accurately, once I realized it was baseless - the city transformed into a treasure trove of ignition, and I realized that all I ever needed was right in front of me."
 

Q: What inspires you about each other?
Stella - "Colette is one of my oldest, most special friends. We bonded over the Twilight books when we met at summer camp at eleven years old and she has continued to be someone in my life that I consistently have a fun and collaborative relationship with. I go to her for advice, both creative and personal because I trust her opinion so deeply. She has an ability to make people feel seen and heard. She is someone who lights up a room, she's filled with energy, and her unique and deep relationship to spirituality is something I constantly look to for inspiration. I admire her ability to connect with people easily and with so much curiosity and joy. She is one of a kind."

Colette - "I've known Stella for more than 12 years, and through all that her essence has remained the same. She's cultivated her creativity in a completely authentic and personal way. I'm inspired by her talent and ambition, but moreso by the way she brings herself into any room. And into any project. Her style calls out to you in everything she creates - whether it's a scent, a film, or the walls in her apartment. it's been so beautiful to see it grow and evolve."