RABÔT FEMALE PORTRAIT SERIES. MEET AISHA AND VIKA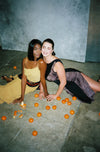 We're celebrating female creatives based in Los Angeles who are inspiring to us at RABÔT.
Aisha is wearing our Paloma Dress and the Rabôt Silk Scarf and Vika is wearing our Sur Dress.


Aisha Rae started her career in New York City and is now living in Los Angeles as a bi-coastal stylist and extends her services in television, commercial, celebrity, and editorial.

She has been featured and noticed by multiple outlets including Vogue, Spring Place, and Revolt Live for her style expertise. Aisha's work has also been published in Elle, Paper, L'officiel and many more.

Aisha not only considers herself a fashion stylist but more of a style consultant building the artist image and brand by finding partnerships with different fashion companies.

As of 2017, Aisha Rae created her own creative agency called, BL8K. BL8K, is a full service creative agency focusing on celebrity placement, editorial, campaigns, and more for emerging designers.

She has a degree from the renowned Fashion Institute of Technology studying business and product
development. Aisha also extends her services as a style expert for talk shows and magazines.
Amidst a chaotic world filled with dispiriting images, stories, and conflicts, StillVika is able to capture the moments that evoke feelings of nostalgic bliss and natural beauty.

Despite crossing multiple categories of photography, Vika's work breathes a signature style noticeably crafted with freedom and character.  Inspired by life, travel, and human connection, her photos ooze elegance and mystery, delivering an emotional connection to people of all demographics.

"I believe in chemistry and energy; I believe in magic," Vika said. "The most beautiful things come out of a project with good energy, strong chemistry, and passion about the work from everyone involved."

Q: How has living in Los Angeles fostered your career? 


Aisha - "Living in Los Angeles put the stamp on my career from building relationships throughout the entertainment industry and being able to sustain a lifestyle off my creativity. I came to Los Angeles with no connections and no friends which forced me to get out of my comfort zone and make it happen!"

Vika - "Living in Los Angeles has given me a beautiful opportunity to be surrounded by like-minded, creative, and passionate artists who love to collaborate, create and experiment. I am constantly inspired by those around me and grateful to continue connecting and supporting each other's growth, as is the case with Aisha and me."
 

Q: What inspires you about each other?
Aisha - "Vika pushes my creativity and still sparks my interest in styling. I have been creative directing more than styling as I began falling out of love with my passion, but Vika always pushes that creativity and forces me to think outside the box. We both push each other and are honest with each other, which allows us to make impactful and flawless work. "

Vika - "Aisha and I share a unique ability to understand each other's creative vision as if it were second nature. Our collaboration is a seamless process, where we frequently exchange ideas and inspiration that the other was about to share. Aisha's unwavering confidence in her work pushes her to fearlessly experiment with new concepts, motivating and inspiring me to do the same. Every time we collaborate, we challenge each other to push boundaries, making it difficult for us to create a mood board for our shoots as we strive to create something entirely new."