RABÔT FEMALE PORTRAIT SERIES. MEET LAUREN AND JEN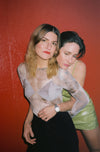 We're celebrating female creatives based in Los Angeles who are inspiring to us at RABÔT.
Meet Lauren Naylor,
 

@lnaynay and her cousin, Jen Kyle Whalen, @jennysayyes, photographed by

 

Bella Gadsby.

 

Look 1: Lauren is wearing our Sur Top in Sable Wash and Beaux Pant. Jen is wearing our Dove Dress in Chartreuse.

Look 2: Lauren is wearing our Ellie Dress in Eyes and Jen is wearing our Mimi Cardi and Dolores Pant in Psyche.

 

Lauren Naylor is a photographer, director and DP based in LA. Her unique style is rooted with moody undertones and cinematic motifs. She is a visual creator with a strong base on human emotion and expressive storytelling. Some of her clients include Prada, Vogue and The Outset. Playing music is her favorite side thing, along with painting and outdoor adventuring.


Jen is a Los Angeles based director, writer and award-winning producer with over 12 years experience in show business. She's a former pro bike racer turned sports performer who strives to blend her passion for media with athletics. Her series CALIFORNIA GIRLS, about a ruckus group of female bike racers trying to make it pro, was selected for the Youtube Supercharge Pitch Program and has appeared at the Bicycle Film Festival. It's set for a new series release this summer. As a creative freelancer, her portfolio spans from promotional and marketing materials such as TV campaigns, brand stories and behind the scenes featurettes to on-camera work and script writing. She recently hosted a show about the groundbreaking Tour de Femmes, the first legitimate race for women at the Tour de France. Her love for comedy and fascination for the weird is a steady infusion in her projects and lifestyle.


 

Q: How has living in Los Angeles fostered your career? 


Lauren - "LA has fostered my career thanks to all of the amazing people I've been lucky enough to collaborate with. There's so much talent and coolness it can be intimidating at first, but ultimately inspiring. Plus of course, being a photographer/director, it's hard to beat the shoot locations in the area. Natural landscapes have always been a huge part of my work so when I moved to LA from NYC I was in awe of the beauty of southern Cali. It definitely shaped my style."

Jen - "When I moved to LA, I went straight into show business, but I also unexpectedly fell in love with bike racing. Juggling a career in TV and being a pro bike racer fed my fantasy of getting a female sports show made. Flash forward to my current project - a series I created called California Girls, an ensemble scripted comedy about women trying to go pro in bike racing. It's set to release this summer, it's gunna be great!"
 

Q: What inspires you about each other?
Lauren - "Jen is an all-around talent that I've always looked up to since we were kids. She is constantly kicking ass in male-dominated fields such as cycling and writing/producing. When we have the opportunity to work together it's super special. And she is one of the funniest people on earth, a person you can be a complete weirdo with. I'm very proud to be her cuz."

Jen - "Lauren is a remarkable photographer. Over the last decade, I've witnessed her define her style and build her empire and it's been so inspiring. I feel so lucky to be related to her. I look at her sometimes and think "wow, this sought after photographer is the same person I went to Disney World with as a kid." I get to brag about her and meet her at Walt's for a brew. It's a really special familial relationship. The kind where she informs you on a family camping trip that she's going to take tasteful nudes of everyone and you just oblige because you trust she's going to make great art."