Rabôt Female Portrait Series. Meet Olga and Goldie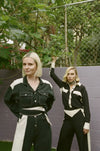 We're celebrating female creatives based in Los Angeles who are inspiring to us at RABÔT.

Olga (left) is wearing our Crowe Jumpsuit and Goldie (right) is wearing our Valentine Shirt and Porto Pant.


Olga (left) - "I was born in Ukraine, and lived in Kyiv most of my life, until 4 years ago I moved to Los Angeles. I work in fashion, love to explore new places, people, designs, arts, architecture, cultures - everything that makes my creative side more reach and "textured". The famous "Eye has to travel" is very accurate to me. I really enjoy California - its unforgettable nature, mix of cultures, art and creative scene. I met some incredible people here and am excited for more."

Goldie (right) - "My first home wasn't a house at all, it was a trailer in the woods, down the street from my first job. My family's junkyard. I remember singing along to the radio while separating car parts and throwing them into piles to be shipped away by tracker-trailers. Most of my family attributed my dreams to an over active imagination. I remember telling anyone who would listen about my plans of becoming a movie star, or singing at the Grand Ol Opry with Dolly Parton. I still think it's a strange and extraordinary thing to grow up how I did and end up where I am. I've moved from Nova Scotia to London, to LA and finally to Paris. I go where I am inspired. A hunger for art ... breakfast, lunch and dinner ;)"
Q: What inspires you about each other?


A: Olga - "Goldie is such a beautiful and creative person, like her multitasking and always looking fabulously styled. She's great motivation to stay fit and focused."

Goldie - "Olga inspires me to be myself, laugh a lot and make our mark in the fashion industry leading with inclusivity & positivity."



Q: How haha you been uplifted this past year by each other?


A: Olga - "Just virtually checking in on each other was helpful. Goldie quarantined in France and I loved seeing her staying active and doing ballet classes!"

Goldie - "We have uplifted each other by staying in touch, checking in and finally a lovely reunion a month ago." :)