Rabôt Female Portrait Series. Meet Vivian and Ashleigh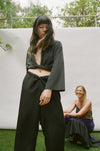 We're celebrating female creatives based in Los Angeles who are inspiring to us at RABÔT.

Vivian (left) is wearing the
 Olivio Top
+
Dolores Pant
and Ashleigh (right) is wearing the
Paloma Dress in Patchwork Mix
.
Vivian (left) - "My name is Vivian, I am a wardrobe stylist and art director based in Los Angeles. I've always been enamored by stories for as long as I can remember. As I've grown up, I realized that the root of the magic is in people, the "human-ness", the emotions we are capable of showing and empathizing with. What I love about fashion is its undeniable tie to identity and community, to culture and an intimacy with the body. Styling is a sort of freedom, to curate images that show the nuance and complexities of people. Some days, I still can't believe I get to tell stories with beautiful, creative minds like Ashleigh."

Ashleigh (right) - "My name is Ashleigh Parsons and I'm a Director and Producer, based in Los Angeles. I received my BA in Psychology from Colgate University and my MA in Human Development and Psychology from Harvard University. In 2019, my partner Sean Ryan Pierce and I founded Roadwork Studio - a collaborative and full-service photography and video production company that focuses on branded content and short films. While I have worked in production and creative direction in a variety of settings, I have always been most interested in the human experience and the power of visual storytelling and I'm excited to see how Roadwork Studio continues to evolve in the future, especially with amazing minds like Vivian involved."



Q: What inspires you about each other?

A: Vivian (left) - "Ashleigh's excitement and passion for anything she takes on is infectious. She can't help but brighten everything! Once in a while you meet someone who feels like your personal sun and you hold them close. She is the best person to have on set and the best person to have in your corner. She is also incredibly strong, mentally and physically, and her unwavering determination for the goals she sets for herself, whether it's getting that perfect shot or running more miles than I can count, inspires me everyday to be the best for myself and others. She has an undeniable creative eye, immense education in her craft, and she takes care of people."

Ashleigh (right) - "Though I met Vivian through boxing (she's a collegiate boxer and incredible instructor - fun fact), when I saw her conceptual and styling work, I knew immediately I wanted to work with her. Vivian's combination of humor and intelligence is inspiring and her impeccable taste comes through in everything that she does, whether it's a stylish sock/shoe combo she wears to a meeting downtown or a playful spin on a bodybuilder pose for a photography concept. She is the missing piece of the puzzle when it comes to visuals. Not only is Vivian incredibly creative but she is focused and determined and her commitment to a project allows it to be the best possible expression of itself."



Q: How have you been uplifted this past year by each other?

A: Vivian (left) - "Whether by fate or the goodness of mutual friends, I actually met Ashleigh just this past year. Sounds cheesy, but spending time with her has changed my life. I've never met someone whose interests align so fully with mine; we can effortlessly talk shop about concepts we want to start while hammering out a couple of miles on the track. Our routine sessions of working out and breathing fresh park air has been therapeutic for me to say the least. Her determination for conquering challenges keeps me inspired to hold myself up to the same standards; she makes me a stronger person. Ashleigh is also one of the most thoughtful, intuitive, and kind hearted people you'll meet, and I'm incredibly grateful for all the support and kindness she's given me."

Ashleigh (right) - "This past year, Vivian filled a void I didn't realize I had until we began spending time together. Her ability to bring a story to life visually and stylistically is inspiring. Often, I'll loosely reference an idea I've been brainstorming and she'll have it completely plotted out by our next meeting (yes, our meetings usually occur while running miles at the track). During a year that often felt idle and difficult, she's been a light that has inspired work that I never really thought we would be able to create. Not only am I honored to work with Vivian but I'm incredibly grateful for her nourishing friendship. She is a force to be reckoned with and I can't wait to see what this next year brings both for our relationship and for our careers."