RABÔT FEMALE PORTRAIT SERIES. MEET MAYA AND HER MOTHER, LORNA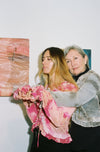 We're celebrating female creatives based in Los Angeles who are inspiring to us at RABÔT.
Look 1: Maya and Lorna are wearing our Mimi Cardi.
Maya Fuhr is a Canadian Los Angeles-based artist whose practice explores various facets of the art, fashion, and design worlds. With a focus on sculpture, installation and photography.  Fuhr's dream-like aesthetic illuminates any chosen object's lived history and a sense of authenticity in her subjects — fraught with contradictions of fetishism, exclusion, opulence, exploitation, and voyeurism. Fuhr's work has been exhibited internationally in London, Paris, New York, Tel Aviv, and Toronto. In 2017, she was acknowledged for The Magenta Foundation Photography Project Award, enabling her to continue her series Malleable Privilege, a timely inward-looking investigation into the artist's relationship with fashion and its impact on the environment. In 2023 she had her first U.S solo exhibition Compersion at Sade Gallery. 

Q: How has living in Los Angeles fostered your career? 


Maya - "I've only lived here two years, but the sunlight and weather makes a difference because it enables me to work on art outside and in my garage.  There's space to grow, literally + figuratively."



Q: What inspires you about your mom?
Maya - "My mom is open hearted, creative and adventurous.  She notices details and points out things in environments that has me be present and also has taught me to engage with the world in a fresh, observant way.
My exhibition is called Compersion, and she arrived in L.A to visit me the other day and pulled out a t shirt she had designed that said the Buddhist definition of the term.  I didn't know she had made that, nor had we talked about compersion together, but she definitely brought me up teaching me to be happy for others and motivated a sense of peace and unity that is inherently a part of me and the conversations that are created through my artwork."

Q: Why did you choose to go into a creative line of work? How has your work nurtured you?
Lorna - "What inspired me to become creative were people that I have felt drawn to my whole life. They are usually people who are able to express themselves freely and in a way that is enriching. There is so much beauty and pleasure to be had in this life if we participate in creating it. One of my particular influences is the family of one of my oldest and dearest friends who has five siblings, all of whom are artists is their own right and prospering.

Being a witness to their accomplishments has taught me a lot which of course has filtered down to my interactions with my children."

Q: What inspires you about Maya?
Lorna - "What inspires me about Maya is her sheer determination and energy for her work. She is motivated and on fire as well as being organized and conscientious. Her non-profit society, which she founded, is particularly impressive. I feel very proud of her.
It has been good for my growth to not let my personal opinions and preferences colour my perception of Maya's work which often pushes the limits of mainstream propriety. I have confidence that her expression is a contribution. I am particularly inspired by her ability to draw a huge variety of people who are mutually supportive into her circle of activity.
I have met so many interesting people because she's my daughter."