RABÔT FEMALE PORTRAIT SERIES. MEET CARLSON AND DREW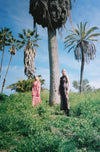 We're celebrating female creatives based in Los Angeles who are inspiring to us at RABÔT.
Look 1: Carlson is wearing our Mimi Cardi and Mesh Paloma Dress and Drew is wearing our Sur Dress.
Look 2: Carlson and Drew are both wearing our Mitra Top and Dolores Pant.
Carlson - Carlson Young is a director, writer, and actress based in Los Angeles. Young recently directed her second feature film for Amazon "UPGRADED" which will premiere sometime in 2023. Her debut feature that she wrote, directed and starred in "THE BLAZING WORLD" premiered at the 2021 Sundance Film Festival. Inspired by all things mysterious, Young is driven by her instinct to weave together compelling narratives and complex characters so as to invite the audience into a shared experience of empathy, experience and escape. Additionally, she recently co-founded a beauty tech company that is developing a suite of UVC light sanitizing makeup bags.
Drew - Drew MacKay (also known as "MadMacKay") is a multimedia visual designer with 7+ years in graphic, motion graphic, and digital arts design, who constantly strives to push the limits through her work. Her passion for music has been a driving force behind creating her art. Drew strives to merge the world of music and design by using design as means to convey the sounds and emotions behind music. Her portfolio ranges from product, branding, print, packaging, publishing, apparel/production, environmental, marketing/promotional materials, VR/AR, animation design and more. She uses her art forms to continue pushing the boundaries of industry standards and disrupting markets and enjoys creative collaborations. Visit @madmackay.design to check out more of the madness.

Q: How has living in Los Angeles fostered your career? 


Carlson - "Living in Los Angeles has inherently fostered my career by the nature of what I do. Everything for me, work wise, exists primarily in Los Angeles - so it's both very convenient and invaluable to be surrounded by such a diverse group of artists from around the world. And it's an incredibly competitive environment whether you realize it or not - in many ways, it's sink or swim. And I had to figure out how to swim. It took many years. Braving Los Angeles, I think, makes you resilient in the end, which is really necessary generally and in my work."


Drew - "Living in Los Angeles has been instrumental in shaping my career in more ways than one. It has opened doors to numerous opportunities and provided me with a wealth of experiences that I wouldn't have found elsewhere. One of these experiences includes working on shoots such as the one with RABÔT, where I get to spend a day with inspiring and talented creatives and showcase their gorgeous sustainable luxury clothing.

One of the things that I admire most about this city is the chaotic creative space it offers. Despite its frenzied pace, I've always been emboldened to take risks and put myself out there, thereby creating a community of like-minded individuals who are passionate about pushing the boundaries of their respective art forms.

Another aspect of living in Los Angeles that I find inspiring is the young and entrepreneurial mindset of many people here. The city's diversity offers access to a broad range of perspectives that are both enlightening and beautiful. This is something that people from smaller cities may not have the opportunity to experience.

I draw inspiration from my surroundings, be it the stickers and gum on a trash can, the billboards lining Sunset Boulevard, or the graffiti beneath a freeway exit. The diverse neighborhoods in Los Angeles allow me to tap into nature's serenity while at the same time experiencing the excitement of award shows, street filming, fun pop-up shops, and curated creative events. While the fast-paced culture of Los Angeles can be overwhelming and exhausting at times, it has also helped me forge some of my most meaningful collaborations and develop into the creator I am today."



Q: What inspires you about each other?
Carlson - "Drew inspires me deeply just as a human - we have a really unique relationship, I can be my most vulnerable self around her which has been incredibly healing. She is so kind, hilarious, and full of life. I'm so inspired by her ability to filter her worldview into a succinct visual language, and the creative tools she has under her belt as a graphic designer are really impressive to me - from her animation to her ability to execute on so many different design styles and aesthetics. I think she has such a strong visual identity, and I admire that. But overall I just love watching Drew grow as an artist and as a person. I'll always want a front seat to that show!"


Drew - "There are so many things about Carlson that inspire me, but above all, it's her talented, curious, and creative mind that I find truly remarkable. I often marvel at her ability to visualize and create new worlds, something that is unique to her and cannot be taught.

One of the most inspiring things about Carlson is how she got to where she is today. She took her future into her own hands at a young age and wrote a letter, sending it all the way from Texas to LA with a headshot because she wanted to be an actress. This level of initiative and determination speaks volumes about the woman she has become and her dedication to pushing industry boundaries and enhancing the value of the film industry.

What also impresses me about Carlson is her ability to push through obstacles, whether it's being a kick-ass director in a primarily male-dominated industry or creating, directing, and acting in her first film during a global pandemic. She approaches each challenge with resilience and executes perfectly.

Despite juggling numerous projects at once, Carlson handles everything with grace and still manages to provide support for those around her. I'm inspired by her diverse skill set and portfolio, from developing products for her Beauty Clean company to acting, directing, and writing. Rather than getting lost in the mix, she is intentional about each project she takes on.

At her age, Carlson has already accomplished so much, yet she remains grounded and humble in all that she does. Her unwavering dedication to her craft and her ability to inspire those around her are just a few of the things that make her such an inspiring individual, and one of the women I look up to the most in this world."