RABÔT FEMALE PORTRAIT SERIES. MEET MARI AND LIKA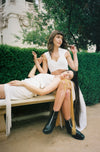 We're celebrating female creatives based in Los Angeles who are inspiring to us at RABÔT.

Look 2: Mari is wearing the Valentine Shirt and Dolores Pant and Lika is wearing the Miller Shirt Dress.
Mari Makatsaria started her career as a journalist, working as an associate editor for a lifestyle magazine, during which she racked up a slew of awards, including Magazine Writer of the Year at both the IRMA Awards and the Great Plains Journalism Awards in 2017. Alongside her day job as a managing editor for a boutique marketing agency, Mari now also runs her own 

fashion platform

, where she highlights local and international independent designers through runway reviews, interviews, and trend reports. With a globetrotting, multicultural background, Mari strives to bring diverse stories to life through vivid, first-person storytelling and insightful reporting. Her style has been featured in Vogue, Vogue Scandinavia, Teen Vogue, Women's Wear Daily, Elle, L'Officiel, and GQ.
Before moving to the United States, Lika Khomeriki worked as a travel agent, helping travelers plan their dream vacations. In 2018, Lika found herself pursuing her own travel goals when she moved to the U.S. With a passion for photography and food, she began enrolling in classes and honing her skills behind the camera. Her eye for composition and style landed her several career opportunities managing social media for local cafes, boutiques, and flower shops. Now living in Los Angeles, Lika continues to work on her craft, communicating flavor and taste through still imagery and video.

Q: How has living in Los Angeles fostered your career? 

Mari - "Los Angeles' creative landscape is endless. It's a breeding ground for artists, musicians, chefs, fashion designers – people doing incredible things. When you're surrounded by so much talent, you can't help but be inspired. Connecting with creatives who have cool jobs, fascinating life stories, and standout talents is exceptionally rewarding. As a writer and journalist, nothing brings me more joy than sharing their stories."

Lika - "Los Angeles is full of incredible people, especially in the culinary world. There are so many opportunities to work with talented and creative people in the restaurant industry. I'm grateful to get a chance to connect and get inspired by them."



Q: What inspires you about each other?
Mari - "Lika and I are both from The Republic of Georgia – a little country in Europe known for its ancient winemaking traditions, incredible cultural heritage, and absolutely delicious food. When we first met, we instantly connected over cooking and storytelling. Although Lika only recently moved to Los Angeles and just started getting her feet wet in food styling and photography, it feels as though she's been doing this forever! I'm always in awe of her impeccable style and eye for detail. She knows how to create the most delicious recipes and capture them in a way that makes your mouth water!"

Lika - "Mari and I are from the same country, The Republic of Georgia. We first met on Instagram, and after I moved to Los Angeles, we decided to meet in person! Mari has an amazing sense of style. I love how she creates every single look. We also both love food, and every time we meet, we try to find a new restaurant and menu to explore. It's hard to find a good friend, but I think I found one. I appreciate her kindness and honesty!"