Rabôt Female Portrait Series. Meet Jett And Roxy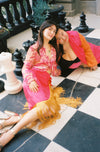 We're celebrating female creatives based in Los Angeles who are inspiring to us at RABÔT.
Jett is wearing the Mimi Cardi and the Paradisi Skirt. Roxy is wearing the Court Coat.
Jett Kwong is a vocalist, guzheng player, composer and actor. Her combination of the Chinese guzheng, vocal melodies, strings, and electronic production transports the listener into dreamy soundscapes, a "balm to the spirit" (NPR), largely inspired by her mixed heritage and musings on intimacy and connection. Jett was the recipient of the 2019 Kollaboration Kollabstar award and her voice and compositions can be heard on stage and screen around the world from the Getty Villa to Hulu's Castle Rock.
Roxy Shih is a Taiwanese-American director who explores cross-cultural themes in a genre space. Nominated for best directing at the Daytime Emmys in 2020 for her work on Dark/Web, she has also directed episodes of The Haunted Museum, a series produced by Zak Bagans and Eli Roth. Her feature List of a Lifetime, acquired by Lifetime as their centerpiece film for Breast Cancer Awareness Month, was nominated by the 2022 Critic's Choice Awards and Hollywood Critics Associations Awards.

An advocate for her community, Roxy co-founded the Taiwanese American Film Festival in Los Angeles and served as the festival director for two years. She currently runs a podcast called Two Horny Goats, where she and her co-host Priska tackle the liminal spaces that connect society, relationships, family, and culture. 

Q: How has living in Los Angeles fostered your career? 

Jett - "Only in the last couple years have I begun to feel held in LA. This is partly due to letting go of my own narrative about the city, and partly to the burgeoning AAPI community I've been lucky to be a part of. It can be hard to feel truly held in a geographically spread out place, especially one that is infamous for its vanity and show business mentality. But recently I've been feeling an expanding web of supportive people who are all looking for the oft displaced feeling of, whether through creative endeavors or a simple shared meal, connection. And connection is what is ultimately at the root of my choice of career."

Roxy - "Like plants, we thrive or die in our environment. Being able to have the privilege to exist within the atmosphere of Los Angeles has allowed my creative expression to truly bloom. What I love the most is that you can always find your people here - inspirational artists are all around you, as are the spaces that can give you an opportunity to explore. Embrace and lean on the communities that this electric city offers. Say YES. It's the first step in giving yourself permission for creative liberation."



Q: What inspires you about each other?
Jett - "It's impossible to meet Roxy and not feel her incredible dynamism. She continues to challenge everyone around her to work smarter, dream bigger, and to know their worth. But I also get to witness her expansive warmth, generosity, and tenderness. Whether it's sharing stories over tea, sobbing in a movie theater together, or laughing our asses off over dongani tong, I feel really fortunate to have a friend like Roxy to grow with..!"

Roxy - "Anyone who has met Jett will agree that she's magical. It was what drew me to her in the first place (It was years ago that started with a cringey email and her response seven months later… But that's a story for another day). Whether she's creating worlds with her genre-bending music, creating community, or pushing herself to learn something new… Jett is a brilliant, multi-faceted maverick. She truly is a force who inspires me and so many others."