RABÔT FEMALE PORTRAIT SERIES. MEET ELISE AND SHARI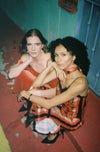 We're celebrating female creatives based in Los Angeles who are inspiring to us at RABÔT.
Born and raised in Albuquerque, New Mexico, Elise Eberle ventured out to NYC at the ripe age of 17 after being given the opportunity to work at Teen Vogue. After working for the Fashion Market Editor for a year, she decided to move to LA to pursue her acting career - which was already in motion, having previously gone to Sundance for starring in Drake Doremus's "Breathe In" (with Felicity Jones and Guy Pearce), and co-leading the first screen adaptation of Judy Blume's novel "Tiger Eyes," as well as starring alongside Claire Danes in "As Cool As I Am." Soon after moving to LA and receiving critical acclaim by the likes of Rolling Stone and WSJ, Elise booked a series regular on 3 successful seasons of the WGN TV Series, "SALEM," and then crossed into the music world, being cast as the lead in The Lumineers music video, "Sleep on the Floor," which has gained over 200 million views and counting. She then recurred on Amazon's "The Last Tycoon," alongside Lily Collins and just finished recurring heavily in the final two seasons of "Shameless." Elise's passions stem beyond her ambitious acting career. She has also proved to be an exceptionally talented visual artist in painting and photography, showcasing and selling out her creations through her website and galleries.
Born in London, UK, and raised in Toronto, Canada, Shari Sharpe is a writer who brings unapologetic humour and an international lens to her work. After a long academic career that brought her to L.A., she's written features for TV, won several awards and has made her foray into directing with her first short in post. Shari's work explores themes of identity, belonging, and double consciousness, while tackling the invisible yet inherent truths of interracial relationships and families.

Q: How has living in Los Angeles fostered your career? 

Elise - "It's been instrumental. I lived in New York for a hot sec but realized Los Angeles was calling to me and moved to California around 11 years ago. There's no looking back, I absolutely love Los Angeles. I'm so drawn by the fact that there is no ceiling here - ANYTHING is possible and there is so much magic in that."

Shari - "L.A. is the city I moved to with no intention of staying long. But then, unrelentingly, it's the city that showed me what I want to do for as long as I can do it. Ironically, my career actually began when I had to leave L.A. three years ago when wrapping up my writing programme. Finding work when I was about to be many, many, many miles away was odd and disorienting, and yet it happened. I was super fortunate and proven wrong that my dreams could only materialise if I was in L.A. And that's what I've found to be most true: most people who are here don't stay here because they need to, they stay because they want to. I consider that a luxury and a privilege. Moving back in March, I've been reconnected with that "wanting" in every person I meet. So for me, L.A. has fostered my career by way of connections, talking to and simply being around like-minded people—the problem-solvers and storytellers alike. They are who initially, all those years ago, pointed me in the right direction, and they are, now, what keep me following that yellow brick road."



Q: How has the SAG-AFTRA strike impacted your career? 
Elise - "Tremendously so. It's been a second covid for everyone in the film industry. Almost everything was shut down for much longer than anyone anticipated. But it only made us stronger, and I haven't seen our unions support one another so fervently. And because we stuck it out, we ended up getting what we wanted. So as much as the seemingly endless uncertainty nearly wore us down, we have come out of it with a new sense of hope, passion, and optimism. I couldn't be more proud of my union for sticking it out."

Shari - "Moving here on an O-1 visa right before the strike… Well, there's been better timing in my life. But, it happened and we're through.

The industry is interconnected—when one part suffers, we all suffer. The strike demonstrated the sheer strength of the Writers Guild and the undeniable power of the writer. Our work matters, our voices matter, and we got a bloody good deal because of that. This deal will help everyone—those here to stay, new writers like myself forging their paths, and those still to come. It ensures that screenwriting remains a viable and gratifying career. 

And despite it being an arduous time, it was also an incredible moment to connect with other artists, to bond over what we value as people and players in this wacky town."

Q: What inspires you about each other?
Elise - "Like everyone I know who has mutual friends, right when I first met Shari, I, too, was a moth to a flame. She is an absolute force and an incredible friend. I'm so inspired by her tenacity, drive, insight, loyalty, talent…. ooof. I can go on and on. I am so grateful to have her in my life."

Shari - "Becoming friends with Elise is something I can barely remember—it took place on impact, in an instant, the blink of an eye. Immediately absorbed in her caffeinated excitement for life, I had found a friend and inspiration. Her joie de vivre is mixed with an intense introspection and sometimes unshakeable frustration over the very things that make us walk, talk and behave the ways we do. (Things that keep me up at night, and yet get me out of bed every morning.) Elise looks at all things internal and external with a magnifying glass. She is shameless in her pursuits—going for anything and everything, head first. No topic could tire if Elise gets to tease away at it. Her ever-curious mind once more bringing her to say, "Wait, but what about this?" She's always searching. And I, for one, simply do not want to be around people who have quit the hunt."