RABÔT FEMALE PORTRAIT SERIES. MEET AMANDA AND PRIYA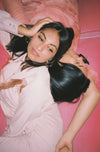 We're celebrating female creatives based in Los Angeles who are inspiring to us at RABÔT.
Look 1: Amanda is wearing our Henri Dress and Paradisi Skirt and Priya is wearing our Miller Shirt Dress.

Look 2: Amanda is wearing our Mimi Cardi and Dolores Pant and Priya is wearing our Henri Top and Dolores Pant.


Fashion stylist Amanda Lim has a background in editorial and celebrity styling, as well as long form narrative costume design for film and television. Amanda began her career in New York City at Nylon Magazine. Upon relocating to Los Angeles, Amanda sought out a freelance career and now works with her own celebrity, editorial and filmmaker clientele. Amanda's clients include, but are not limited to, Alisha Boe, Tori Kelly, Aly & AJ, Mary Steeburgen, Jay Shetty, Ted Danson, and Dianne Guerrero. Her work can be seen on the pages of People, Cultured, Schon!, Grumpy Magazine, and Wonderland.
Priya Satiani was born in Akron, Ohio & raised in Southern California by immigrant parents of Indian and Pakistani descent. A graduate of Chapman University's school of Film & Television, Priya started her career in the entertainment industry as an assistant to the head of the talent and literary department at ICM (International Creative Management. Cutting her teeth through human connection and artistic instinct she started her first management company and entrepreneurial endeavor at the age of 24. In 2020 she joined Entertainment 360 & is currently a partner managing artists ranging from actors, writers &  filmmakers while also producing alongside them. For over 16 years, Priya has been crafting careers for her clients driven by both passion for the arts and storytelling. Priya resides with her husband Johnny & dog Nala in Altadena, CA.

Q: How has living in Los Angeles fostered your career? 


Amanda - "Living in Los Angeles provides a network unparalleled by little to no other cities globally in terms of the network it offers in entertainment and fashion. My interests have always been strongly centered on the intersection of the two and how they influence one another. I feel so lucky to have the relationships I've been able to build over the last almost ten years, I will be celebrating my 10 year anniversary living in LA this June, which I hear is the first official mark of becoming a real Angeleno!"

Priya - "I moved to LA in 2006 while I was finishing up my last year of college. I immediately felt connected to this city – the good and the bad. It's important to learn and know LA outside of the "business". It keeps you in love with the city.  This city has been so impactful and warm to me. The escapability to the coast – the closeness to the mountains. Some of the best authors and artists have come to California to thrive. I feel so deeply connected and invigorated by this city."



Q: What inspires you about each other?
Amanda - "Priya's business prowess, kindness, intelligence and community instincts are unmatched. I distinctly remember how seen, heard and protected I felt after our first serious conversation regarding some work logistics on our first press tour together back in 2019. There is a major disconnect between the studios, streaming services and freelance artists which creates a shortage of funds, leaving a lot of small business owners grossly underpaid and undervalued and yet, we are still held to a standard of excellence that is just not being compensated for. Priya advocated for me like no one else had done before. I will always have the utmost respect and admiration for her due to that in addition to the example with which she has led as our working relationship and personal friendship has developed ever since. It's a breath of fresh air and true feeling of relief to know that I can seek many aspects of mentorship from her."

Priya - "Amanda is one of the warmest women I know. Watching her flourish over the last few years has been so remarkable. She puts her all into what she does – but most importantly reminds those around her to keep their cup full. She's inquisitive, creative, and warm. She is open and collaborative. I think the idea of collaboration in both management and styling is so darn important. These are artists that have thoughts, creative feelings and want partnership with guidance. I think the balance of both injecting your own creativity while being open to someone else's is VERY nuanced and hard to find balance – Amanda has just that. It's a joy to work with her."