Rabôt Female Portrait Series. Meet Anne and Heather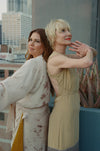 We're celebrating female creatives based in Los Angeles who are inspiring to us at RABÔT.
Anne is wearing our Ramblas Dress with Fringe and and Heather is wearing our Paradisi Top and Paradisi Skirt.



Anne - Anne Heche is an Emmy-award-winning actress, director, screenwriter, and author based in Los Angeles.
Following a dual role in the daytime soap opera Another World (1987–91), Anne Heche rose to mainstream prominence in the late 1990s with films Donnie Brasco (1997), Volcano (1997), Six Days, Seven Nights (1998), and Return to Paradise (1998). In 1998, Heche portrayed Marion Crane in Gus Van Sant's horror remake of Psycho. Anne has also appeared in the well-received independent films Birth (2004), Spread (2009), Cedar Rapids (2011), Rampart (2011), and Catfight (2016). In 2004, Heche received a Primetime Emmy Award nomination for Best Supporting Actress for her performance in the Lifetime movie Gracie's Choice and a Tony Award nomination for Best Actress for her work in Broadway's Twentieth Century.

She has starred in the television series Men in Trees (2006–08), Hung (2009–11), Save Me (2013), Aftermath (2016), The Brave (2017), Quantico (2015-2018), and Chicago P.D. (2018-2019). In addition, Anne has starred in Netflix hit show, The Vanished (2020) and was a contestant on the reality show, Dancing with the Stars (2020). She can be seen in the disaster film 13 Minutes and on her podcast, Better Together with Anne & Heather.
Heather - Heather Duffy is the President and CEO of The Duffy Co., a full-service PR, marketing, and community relations firm based in Los Angeles. The firm's focus is telling stories in a way that engages media to solidify brand awareness. The Duffy Co. approaches communication strategies using today's advancement in technology while still valuing long-term personal relationships.
Over her career, Heather has worked on campaigns for
LACMA, Otis College of Art and Design, FIDM, Caruso Affiliated Holdings, The International Women's Forum, and The Los Angeles Convention & Visitors Bureau. Heather was also part of the team that revitalized Hollywood through an image building and development campaign, working with the Hollywood Entertainment District, the Hollywood Chamber of Commerce, and TrizecHahn.

Heather considers co-founding Larchmont Charter School among one of her proudest achievements. In its 16th year, LCS has a $10+ million operating budget and a K-12 charter operating on four campuses. It consistently ranks in the top 3% of highest performing schools in LAUSD and is among the districts most diverse, with a uniquely engaged community.

A native Angeleno, Heather is a die-hard Rams fan and Dodger fan. Heather graduated from Loyola Marymount University with a B.A. in Sociology/African American Studies and earned a degree in Marketing from The Fashion Institute of Design and Merchandise.

Together, Anne and Heather host a podcast, Better Together with Anne & Heather, and run a production company, Anne & Heather Ink. The company's focus is to seek out projects that align with its mission of spreading kindness and acceptance in the world.



Q: What inspires you about each other?


Anne - "What inspires me about Heather: Her mind, heart, and dedication to living in loving kindness. Or, as she says, "Just don't be a dick." Words to live by, and I hang on hers."

Heather - "What inspires me about Anne is her work ethic and her eternal optimism. She looks for the good in everything and everyone. Even when things go wrong, she always says, "the mistake is the messenger." Which means she always finds a silver lining in any circumstance!"



Q: How have you been uplifted this past year by each other?

Anne - "Uplifting another is the surprise of what we receive every day when we show up to work. When your dedication is to the passion, purpose, and intent of truth, and you see that in the face of your Best Friend & Podcast Partner, you know you can survive anything and create everything."
Heather - "The thing about working with your best friend is that you care for them more deeply than a business associate. Our successes mean much more to us, and any setback is tackled together. We are in it together, and we take turns uplifting each other any chance we get!"