Rabôt Female Portrait Series. Meet Chelsea and Rainey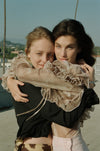 We're celebrating female creatives based in Los Angeles who are inspiring to us at RABÔT.
Chelsea is wearing our Mimi Top and Dolores Pant and Rainey is wearing our Mimi Top, Sur Top and Terre Pant.

Chelsea (left) - Chelsea is an artist based in Los Angeles, CA. Her current focus is free-styled poetry, music, and acting. Her artist name is Chelsea Lauren Judith Lopez.
Rainey (right) - Rainey is an artist currently focused on music and acting. Her artist name is Rainsford. She is based in Los Angeles, CA.



Q: What inspires you about each other?

A: Chelsea - "It's sometimes impossible to put into words what my friendship with Rain means, but I'd say Rainey and I's love for each other is pure, genuine, and infinitely original and hilarious."



Q: How have you been uplifted this past year by each other?


A: Chelsea - "Laughter + spending time with our cats and laughing together in the moment. A few years ago we fostered and adopted our loving kittens from an animal shelter which was a meaningful step in our connection. I've always looked up to Rainey's nurturing spirit when it comes to her friends, family, and animals, she has taught me so much about what it truly means to love, to be an artist, and how to nurture those you love while pursuing your dreams confidently. Rainey has been caring for animals her whole life + whether we're hiking and I'm watching her build bouquets in nature or care for her friends family + animals, Rainey's kindness and true love never ceases to inspire me to be who I am with confidence and fearless honesty. A few years ago I was having a tough time and took time away from my house to live with Rainey, we ended up taking care of a bunch of kitties, I watched Rainey's kindness pour into her every action as she cared for the kitties alone in her loft space and taught me how to feed the kittens too. I followed her lead until i found my own happiness again. Let's just say by the end of my stay with her I adopted two kitties, who are now at the center of my life. My cats names are Nonnie and Casper (Nonnie is named after my grandmother Beverley and her brother Casper is named after Casper the friendly ghost the cartoon) and their other brother now lives with Rainey + his name is Jesus :) Our love for one another, this native land, animals, + our friendship is truly the most beautiful gift to me. I'm infinitely grateful for our love."