Rabôt Female Portrait Series. Meet Summer and Lani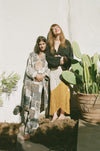 We're celebrating female creatives based in Los Angeles who are inspiring to us at RABÔT.
Summer is wearing our Sur Top, Court Coat and Terre Pant and Lani is wearing our Olivio Top and Paradisi Skirt.


Summer - Summer Bowie is the managing editor of Autre Magazine, an LA-based art and fashion publication online and in print. A former dancer and educator, she brings her studies in movement and language to her assessment of culture at large.

Lani - Lani Trock is a multi-disciplinary artist based in Los Angeles. Through immersive installations, paired with participatory activations, her work investigates & facilitates the human evolution into unity consciousness. With an awareness of the universe as a fundamentally interconnected, symbiotic organism, all aspects are honored as equally valuable for their unique contribution. Her work envisions alternative future paradigms, that embody a cultural shift away from scarcity, commodification and competition, in favor of abundance, collaboration and mutual benefit. The primary objective of her practice is to advocate for the peaceful evolution and spiritual elevation of humankind.

Q: What inspires you about each other?


A: Summer - "Lani inspires me with the ease at which she engenders a practice of generosity. This extends not only to physical offerings, such as freshly foraged flowers and herbs, but with her time, energy, and compassion. In this past year, she has given me the gift of understanding the infinitude of what I have to offer."

Lani - "Summer is always authentic, always kind, and deeply at home in her body. It's both incredibly calming and simultaneously empowering to experience this energy. It invites me to honor my true nature and embrace my unique complexity, without fear of how I might be perceived by the external. She leads with a loving and compassionate heart, always finding ways to utilize her station to uplift others, fostering a genuine sense of openness and collaboration in an industry that can often feel competitive and exclusive. Witnessing her divine embodiment liberates me more fully into my own."



Q: How have you been uplifted this past year by each other?

A: Lani - "Many cat memes. Time spent encouraging each other's movement practices. Dreaming and scheming of the radical transformation of society for the benefit of all kind. Investigating new technologies and contemplating innovative, decentralized, non-hierarchical structures for manifesting a more loving world. Our aligned vision and shared intention to bring about this shift, has been a stabilizing force during these very strange times. For our love and friendship, I am immensely thankful."